DOUGHDISHES For Sale:
Doughdish LLC brokers both new and used Doughdishes and original Herreshoff 12 ½ s. Most of our inventory is located at Ballentine's Boat Shop on Cape Cod and can easily be seen with an appointment. Doughdishes are the authorized Fiberglass Herreshoff 12 ½ replica for racing in the H Class.
NEW DOUGHDISHES For Sale: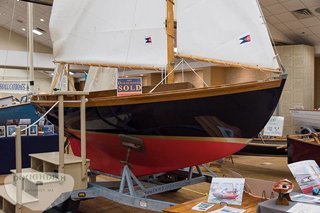 New Doughdishes are currently under construction at BBS that are now available for order. Call for information 508-563-2800 to speak with Amy or Tyler.
---
DOUGHDISHES For Sale:
DD 51 | Restored - $ 35,000.
This package offers a buyer an immaculate Doughdish - at a dramatic discount from the cost of new - and customized as their ideal boat. The package also includes a new Triad trailer.
---
Doughdish 148 - $ 23,500.
DD148 is good condition. With a normal yearly work list, DD148 would be an excellent boat for daysailing or competition.The boat is set up for racing with Harken replacements for many of the standard fittings.
---
DADDY'S BOAT Doughdish 140 - $ 22,000.
DADDY'S BOAT is in very good shape with her yearly work kept up over the years. With a normal yearly work list, DD140 would be an excellent boat for daysailing or competition.
---
HAVEN 12 - $ 26,000.
She has been outfitted with the traditional gaff rig and high quality bronze hardware throughout. The sale includes sails (main and jib) in good condition and an EZ-Loader trailer. Available for viewing in N.J. by appointment.
---
CAPTAIN KIDD - 1936 Herreshoff 12 ½ - $ 55,000 Price Reduced: $40,000
Her restoration was done with methods to preserve her authenticity and remain as an accurate example of the Herreshoff legacy, but to also ensure a longer, less problematic lifespan. She is an excellent opportunity to purchase a completely restored 12 at half the cost.
---
DD No. 349 - $ 25,000.
The boat is in good shape all around with yearly maintenance performed regularly. The sale includes working sails in good condition, road trailer, and a 2.3hp outboard.
---